A few weeks ago, I noticed a new sponsor on Joslyn's blog
Simple Lovely
and fell in love with
debbie carlos
' large posters printed using a architectural/engineer plotter. It took awhile to convince Zach that he would love one of these above our couch (on a very large blank wall) as much as I would.
During that time, I researched other options to fill the space with something equally lovely (and within our budget). I quickly learned what a challenge this was.
For example, check out this practical, well-styled chalkboard pull-down map:
from Restoration Hardware, this large beauty was exactly what I was looking for, but hopelessly over-priced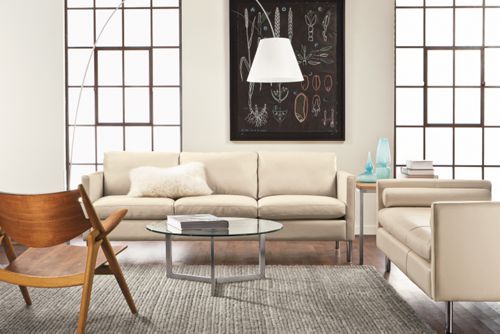 I like the size of this poster, but again too much $$....plus I like that rug :)
I liked the idea of a usable, vintage map...but sizes scaled to fit above a sofa are hard to find
I also checked at big box stores for inspiration....only to come up empty-handed after searching through rows of large, abstract, metal sculptures. They are nice, but not really my style:
Luckily by this point, husband was on board with debbie's amazing cloud poster, so we'll be hanging it this weekend above the couch. I'm stoked to see it in place!
only $45 for a 48"x36" original art piece
What is your favorite way to decorate an empty wall? Photo gallery? One big art piece? Mirror? Leave some inspiration in the comments!