My t-shirt collection needs some updating. Over the winter, I've been cleaning out lots of things from my closet due to the drastically smaller closets in our house compared to our old apartment. I think I am down to my 5 favorite tees, some are shown here:
Keeper (my oldest tee - 1996!):
Keeper (a soft new t-shirt):
Keeper (go Bucks! + I love candid shots):
But there is definitely room for some girly tees in my closet to get through the summer months (please come soon warm weather!). My only requirement is that they must be soft. Here are some that I like: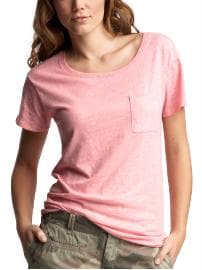 Gap
pocket boyfriend tee, $20 (get 25% off through 2/7)
I think my favorite is the Old Navy tee, which is also the most reasonably priced + it comes in lots of other colors too. Do you keep the same t-shirts for years, like my '96 vintage?